Long Beach California, the former low profile neighbor to glitzy Los Angeles, has stepped up its vacation getaway game.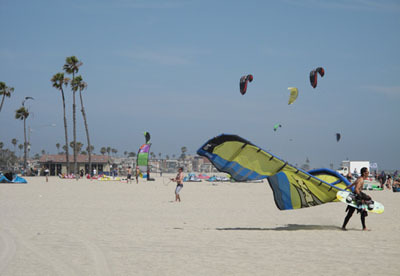 Are you trying to decide where to vacation or staycation on the West Coast? Not sure if you want to explore a big city or dive into a manageable metro area? Look no further, Long Beach is Southern California's two for one destination.
Geographically, you can choose to fly into LAX airport or Long Beach's new airport. Once in town, Long Beach is only 45 minutes from downtown L.A. via the above ground metro train. The train costs $5 per day and is the fastest, cheapest, and most energy efficient route between the two cities.
On the street, you can ride the free Passport bus service that continuously loops around the city's major tourist attractions, including the Aquarium, Shoreline Village waterfront shopping district, Long Beach Museum of Art, and the Nu-Pike amusement park. If you want to get some exercise you can rent traditional and electronically powered bikes, that allow you to peddle or just enjoy the ride.
The LBC as locals call it, is full of hidden gems that may appear unremarkable from the outside, but are full of beauty and amazement on the inside. One such gem is the RMS Queen Mary ocean liner, which is permanently docked in Long Beach.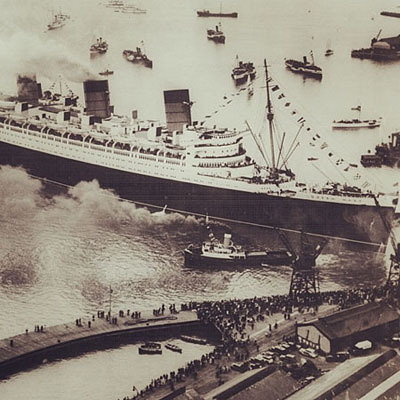 I have to admit that my first thoughts about anything related to British aristocracy is usually accompanied with a look of extreme boredom. To my great surprise my visit on the Queen Mary was not only enjoyable, but downright fascinating and luxurious. Made of the British Empire's most exotic woods and marble, the art deco ship was the gold star standard for luxury travel and glamour.
During World War II the boat was commissioned for active duty, transporting over 850,000 soldiers across the Atlantic, and consequently became a bounty target for Hitler's pilots. Winston Churchill even occupied a private suite on the ship, where he signed the D-Day papers. After the war, the Queen Mary returned to her luxurious roots and became the transport of choice for Hollywood celebrities.
Today the ship is permanently docked in Long Beach's harbor and operates as a museum, restaurant and hotel. You can tour and stay overnight in the many rooms, still decorated with the original furnishings. You can also walk through Churchill's private suite, enjoy a harbor view dinner in the posh Sir Winston's restaurant, and socialize with the numerous ghosts reportedly still on board the Queen Mary after all these years.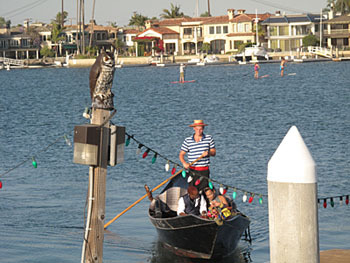 Do you still have a fantasy of sailing to Europe? No worries, the good people of Long Beach decided to build a version of Italy right in their own back yard. Seriously. Naples Island is a California version of the Grand Canal in Venice, Italy. You and your loved ones can hop into a traditional gondola boat, with a traditionally dressed gondolier (except for the Vans footwear), who will row you through canals lined with multimillion dollar waterfront homes, and they will sing (in English of course) to your heart's desire. Just in case this sounds like a big joke, these gondoliers annually compete in the world renowned Venetian Regatta. Don't forget to bring your wine and cheese for the romantic sunset views.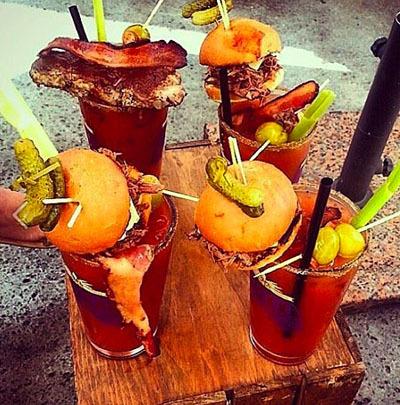 Speaking of food, despite California being famous for its health kick culture, the LBC gets down to the nitty gritty when it comes to food. Do yourself a favor and forget about your diet, and jump into the city's vast array of southern delicacies, craft beers, and ingenious concoctions. I'll simply go down a short list of must haves. The Breakfast Bar's lemon cake pancakes, SIP's grilled cheese crab meat sandwiches, and watermelon ahi tuna tacos, Beachwood BBQ & Brewery's deep fried pickles, Bo-Beau's goat cheese with roasted beets pizza, all things Mexican at Fuego Hotel Maya, and The Attic On Broadway's gigantic Bloody Mary with a burger or BBQ ribs sitting on top of the glass! Food gone wild!
If you have a thing for oldies but goodies, 4th Street also known as Retro Row, is an entire street full of vintage stores carrying everything from retro furniture, clothing, records, books, and art. However, this is no typical hand me down stuff, this area is where the Hollywood set designers and stylists come to scour the bins for the perfect find for hit movies and TV shows. Surprisingly, the selection of goods are in great condition, neatly sorted, and affordable for the average buyer.
Long Beach is a laid back and interesting city to soak up some California sun, good vibes, and good times. The only thing Long Beach doesn't have yet is, native son Snoop Dogg as the city's mayor. However, I'm sure that day will come soon, fo shizzle.
Photos© Lauri Lyons, @boop_aloop, The Queen Mary.